Annyeong! Ji Dan Gao is an old school delight that many people fondly remember as the snack that they used to nom on when they were young. My parents and older siblings are one of them as well. For myself, I do not remember eating this when I was young... Or maybe I was too young to remember then. I made this couple of weeks ago but it failed to turn out well. Maybe it was due to the baking powder that I used, the cake did not rise up well and hence resulted in a stiff cake. I cannot let it go that I failed, hence today I tried my luck again and hurray, I SUCCEED! You know, nothing tastes better than success.
The cake turned out to be really soft and fluffy. I believe it is due to the fact that it was steamed. Steamed food just have this alluring factor. Another interesting fact is that this cake uses carbonated drinks for it's soda that makes it rises up. The most important reason why I love this cake is that
IT IS TOTALLY OIL FREE!!!
Not a single drop of oil is used at all. Therefore, it made washing up super duper easy!! I hate washing up oily dishes everytime after I bake. Also, the oil free factor made this cake very addictive. I had to control my hands that were constantly reaching out for more of the cake.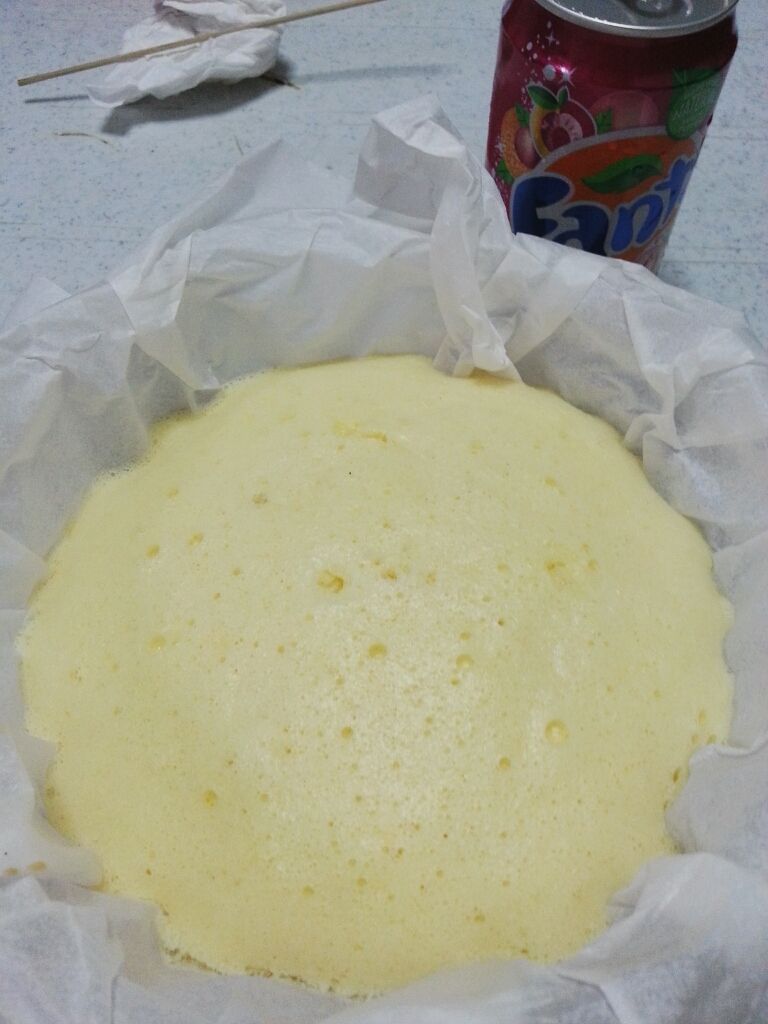 Hehheh, I used peach flavoured fanta! That's the only can of soft drink that I could find at home. Luckily the peach flavoured didn't turn out to be strong.
Recipe adapted from thelittleteochew

Recipe
- 220g eggs excluding weight of shells (about 4 large eggs)
- 210g caster sugar (I reduced it to 150g)
- 230g cake flour or top flour (sifted 2 or 3 times)
- 1 tsp vanilla extract
- 6 tbsp cream soda or 7-Up or Sprite

1. Whisk the eggs till frothy, then start adding sugar a little by little, to ensure it is well-incorporated. Add vanilla extract and continue beating until the batter becomes very pale, thick and creamy. This takes time, and there is no shortcut. Meanwhile, heat up your wok, pot or steamer until you get a gentle boil. Do make sure it is large enough to fit the cake tin and has ample space for the batter to rise and the steam to circulate.

2. Fold in the flour in thirds, alternating with the soda, and ending with flour. Once there are no streaks of flour, stop.

3. To steam, either pour the mixture into a bamboo steamer lined with greaseproof paper or use a 6 or 7-inch lined baking tin. Pop it into the wok, pot or steamer - then cover - and steam on high for 30mins.

4. Once done, place the cake on a rack and allow to cool before slicing.


See the cotton-like soft and fluffy inside?
Some points to take note:
- Beat the eggs mixture until frothy, it should turn out to be creamy looking.
- Steam your mixture as soon as possible. Avoid letting it rest for too long. I separated my mixture into 2 portions and steamed one after another. The second batch turned out to be less soft. I believe it is due to the long resting time that caused the rising agent in the cake to be less effective.
- You can omit the vanilla essence if you have a stronger egg taste. I added vanilla essence but my parents commented that it tasted less egg-y as those sold outside.
- Reduce the sugar amount further if you do not have a sweet tooth. However, refrain from huge reduction as it would definitely make a difference to the texture of the cake.

Many many love for this awesome cake!